If you love the idea of a cocktail hour but don't want any alcohol at your wedding, there are plenty of alternatives. Check out these super cute ideas for a non-alcoholic cocktail hour:
Chocolate Milk/Milk
This idea can be really cute! Simply utilize tall shot glasses or milk bottles and start by melting some chocolate in a double boiler. Dip the rims of the glasses or bottles into the melted chocolate and allow it to set. You can also dip the chocolate in sprinkles for a "salted glass" look. Then, fill the bottles up with milk or chocolate milk, add a cute straw and voila – you have a delicious and adorable cocktail alternative.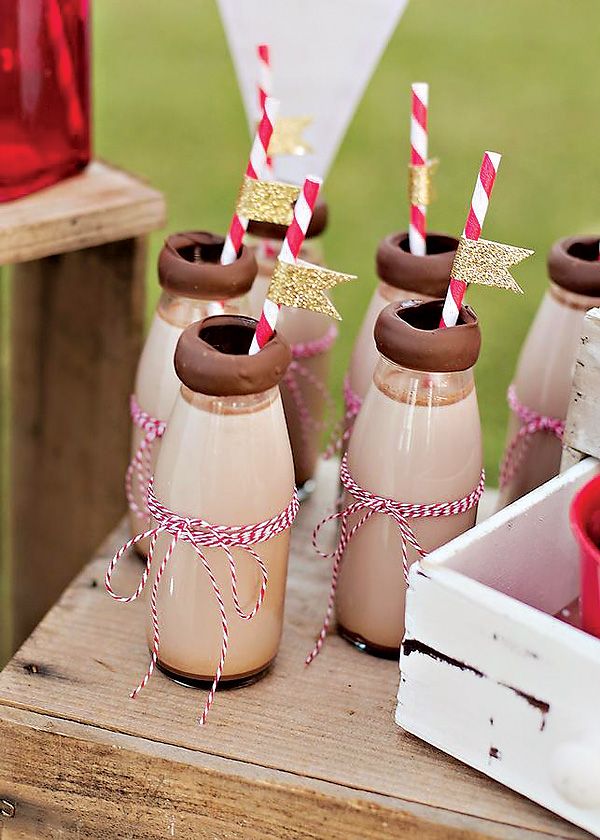 Sweet Sparkling Punch
This is perfect for summer – simply choose your favorite fruit punch juice and add 1 part of that to 1 part sprite or ginger ale. Add fruit slices to garnish. You can also use colored sugar for the rim of the glass!
Pina Colada
For a non-alcoholic pina colada, you can mix 1 part pineapple juice with 1 part coconut milk. Candied coconut works well around the rim of the glass, and you can garnish with cherries and pineapples.
Hot Tea and Coffee Bar
Rather than serving the "cocktails," allow guests to get their own favorite drink from a hot tea and coffee bar. Provide flavored creamers and a variety of syrups that guests can use to flavor their drinks.
Root beer Floats
Finally, serve up root beer floats in frosted mugs garnished with whipped cream and cherries. This is a delicious and favorite drink that works very well for a non-alcoholic cocktail hour.
These are just a few ideas you can use for your alcohol-free cocktail hour. Using your imagination, you can come up with more – or ask friends and family to brainstorm for fun and unique ideas.