One mistake many brides make is letting someone else do their makeup for their big day. Sure, many times the look comes out beautifully, but many times, it doesn't and there may not be time for a re-do on the day of your wedding. Remember, you've done your makeup thousands of times and you know your face best. Practice your makeup look before the wedding so you're confident in how to create the look you want. Here is how to create the smoky-eye makeup look for your wedding.
Step 1:
Line the eyes first with a dark liner. Use charcoal or dark brown for the best look. Do not line the top lid; only the bottom.
Step 2:
Using a gray shadow, cover your lid from the lash line to the center of the lid (the crease where the lid opens). This gray can also be placed in the corner of your eye nearest your nose, and lined across the bottom lash line about 1/3 of the way across.
Step 3:
Using the black shadow, apply it to the crease of your eye (where the lid opens), all the way across the lid. It may look sloppy at first, but that's where the blending comes in a little later. Make sure the shadow is nice and dark. Also, use the shadow to line your bottom lid from the outer corner all the way across to the gray you've already placed there.
Step 4:
Using a white or shimmering light color, highlight your brow bone. Simply apply the shadow directly under your eyebrows, and pull it down to where the black shadow stops. Now you will use your fingertips to lightly blend the black and the highlighter color.
Step 5:
Apply your mascara carefully to both the bottom and top lashes.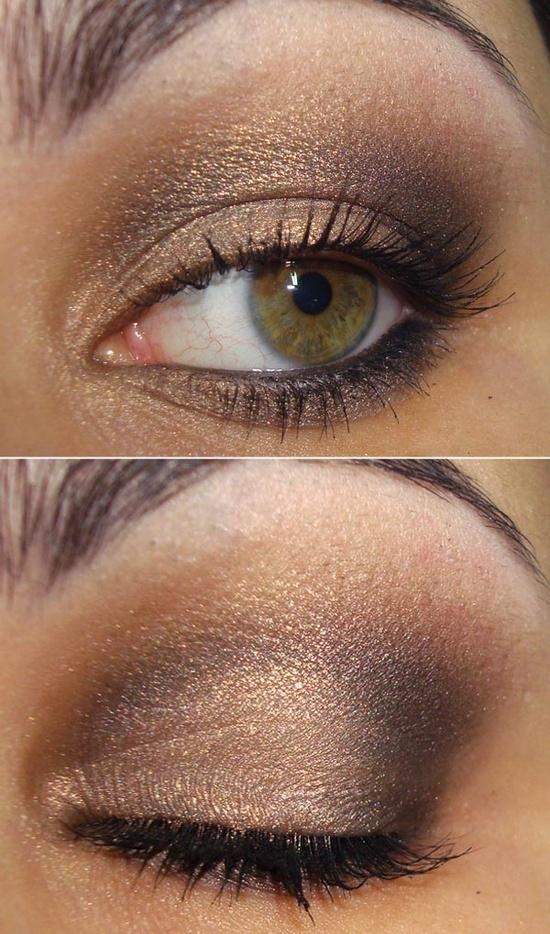 Voila – beautifully smoky eyes that look fantastic for an after dark or dusk wedding. You can also substitute brown and dark brown for the gray and black or experiment with different colors to find something you love.