Many brides have their guests blow bubbles or toss bird seed instead of throwing rice. Another great idea is to have your guests throw rose petals. With these beautiful handmade holders, you can create a wedding décor element as well as a fun little way to present rose petals to your guests for tossing.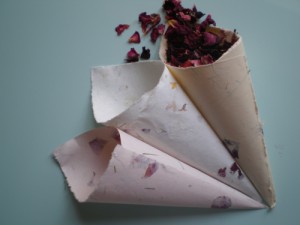 What You'll Need
Squares of Paper (Try origami paper, as you can get specific colors and designs)
Stapler
Hole Punch
Ribbon
Rose Petals
How to Create It
Start by grabbing a corner of the paper with one hand, and then the opposite corner with the other hand. Bring the corners together, placing one on top of the other. Slide the paper together tighter and tighter until you create a small cone (pointy at one end and open at the other end). Staple the paper together so that it holds.
Decorating the Paper Cone
Use a hole punch to create a hole in the top of the paper cone (at the pointy part on the back of the cone). You can add ribbon here to hang the cones or just for a bit of decoration. Use ribbon in your wedding colors. You can also embellish the cone with whatever you'd like – rhinestones, vintage buttons or scraps of fabric. Brides may want to print strips of paper with little sayings to hang from the cones, such as "for wishing the bride and groom well," or something similar.
Finally, when it's time for the ceremony, simply fill each paper cone with rose petals and hang or place them in an area where guests can find them easily. This is a fun and beautiful alternative to tossing rice, and it's very easy to create.