Though most of them weren't overly extravagant, the 1930's brought some of the most beautiful weddings in the history of the US. If you're considering going with this theme, you're in for a real treat. Here are some wonderful visual aids that will help you gain inspiration for this theme.
The Dress and Apparel
As you can see in the 1930's, apparel was fairly simple. Brides wore mostly sheath dresses though some were embellished with decorative ruffles. Brides wore larger headpieces that were elegant and beautiful, sometimes plain and sometimes covered in flowers.
The Cake
This beautiful cake pulls from the 30's era and is absolutely gorgeous without being too overwhelming. It's embellished with charming golden bows and blue ribbon.
Wedding cake toppers in the 1930's were usually made from bisque or celluloid, and were traditional figurines depicting the bride and groom.
The Décor
The décor in the 1930's was simple and pretty. Linen tablecloths, silver, pretty vases; these are examples of what brides would use to decorate in the 30's. There was still a bit of a flapper-era vibe at that point, so some brides used feathers and tassels.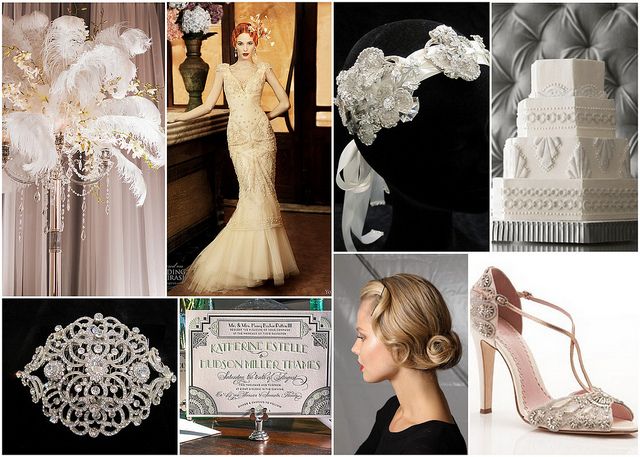 These are just a few ideas to get you started planning your gorgeous 1930's wedding. Not only will it be a lot of fun, but you're sure to impress your guests.